Andrew Morrison

My two-hour May show features recently released music from
Measured
,
The Joy Formidable
,
Malcolm Middleton
,
These New Puritans
,
Mark Peters
,
The Twilight Sad
and
Cherry Glazerr
. You'll also hear eerie sounds from the final album by
The Caretaker
, and an extremely overlooked, little-known gem of song by
Pulp
from way back in 1991, which features as Andy's Old Chestnut.
Mark Cunliffe

So, after missing April due to renovations, I'm back in May with three rather than two hours of tunes just for this month.
Little Simz
is back with another banger and
OG Goodz
, who used to call himself
Durrty Goodz
, has moved towards a Jamaican vibe with his latest stuff.
Mari Dangerfield
brings us some more stylophone sounds with her new one and
JK & Tru-Skool
bring us one of two dollops of Derby goodness, the other other coming from
Night Stages
.
There is a new album out from
Gappy Ranks
and I play a track from it and a fab new one from
Kigo
sneaks in right at the end.
Mark Whitby

With too many seeking to put barriers up at the moment, our show this month features a lot of people seeking to break them down, with commendable results. One of our two featured compilations comes from London's No Hats No Hoods who took a bunch of grime producers to Addis Ababa, supplied them with traditional Ethiopian instruments and shoved them in a recording studio. Meanwhile, our other featured comp. features recordings from Ukraine's dungeon rap scene, brought to us by Manchester's Natural Sciences label.
Barriers broken by our session guests this month are more likely to be sound ones as
VX
bring us the second instalment of exclusive tracks culled from recordings lovingly fashioned a few months ago. The new album from Poland's
Nac/Hut Report
is also likely to set brain and ears a-tremble in the most delightful way possible and there's loads of other new stuff, including albums from
Mystica Tribe
,
Arthur & Martha
and
Nour
plus singles from
Oceans Over Alderaan
,
Neville Staple Band
and
Life As Surface Noise
.
There's a slightly truncated Peel Back... section this month, essentially to accommodate so many new releases but if digging back into the past is your thing we do compensate with a track from the seventies courtesy of
Prince Nico Mbarga & Rocafil Jazz
, while
The Unthanks
cover Molly Drake and the veritable
Bloomin' Nora
try their hand at a T Rex classic.
Pete Jackson

May brings the first solo session from a Dandelion Radio stalwart, as
Richard Quirk
(famed noise monger with The Chasms, Sandfingers and Twice Dead) breaks his duck alone with a session of instrumentals recorded in places as far flung as Tasmania and Vancouver Island.
The international theme extends across the whole show, with amazing new dance music courtesy of Uganda's
Nihiloxica
, Swedish acid from
Roy Of The Ravers
, brilliant bluegrass from
House and Land
and an early candidate for album of the year from Turkey's awesome
Dirya Yildrim and Grup Simsek
.
This month's film soundtrack comes from a groundbreaking Czech New Wave science-fiction film, and there's sounds from the past (also a foreign country, apparantly) including jangly 80s pop, 60s Gallic guitars and 40s Kef music.
Rocker

Two hours packed with new music, including an excellent debut session from London band
Secret Power
, and tracks from
The Wendy Darlings
;
Girl One & The Grease Guns
;
Arrest! Charlie Tipper

;
Personal Best
;
Live, Do Nothing
;
Schande
;
Elva
;
Oldfield Youth Club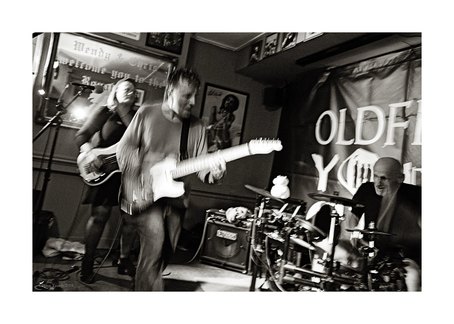 ;
Lonely Tourist
;
Squiggles
;
Courtney Barnett
and
Jeanines
.
The Wedding Present
take on a Clash classic, while
The Specials
cover Bob Marley. There's also new electronica from
Aalson
;
Worakls
and
Moon Boots
.
This month's Educating Elizabeth record is a classic girl vocal cut from 1963; while the show starts with this month's Rocker's Shellac Attack, which features the magnificent Edith Piaf recorded in 1952.
As well as little known acts, here's a little known fact: Doris Troy was a James Brown protégé who had a US hit with Just One Look in 1963. In the early 1970s she lived in London and was signed to The Beatles' Apple Records, she also did numerous sessions as a backing vocalist, the best known (and best selling) of which was for Pink Floyd's The Dark Side Of The Moon album.
Sean Hocking

Another 4 hours from me as I wade through the tsunami of new releases and the best re-releases that have come across my digital desk this month.
Two amazing releases from the Sahel this month. On Sahel Sounds the new album by
Mdou Moctar
and on Glitterbest,
Kel Assouf
's album. Both are sublime and I have become quite addicted to their charms.
Popping around the planet we've got Thailand's
Toxic Chicken
with a highly amusing take on "national UK treasure" John Lydon, new Jamaican artist,
Sikka Rymes
, the wonderful
Skiftande Enheter
from Sweden and we couldn't not include the latest from Australia's finest, the
Chats
;
Pub Feed
.
Songs that have really wormed their way into my ears this month are Bella Union release, Modern Nature by
Supernature
, (album coming soon, can't wait). The latest EP from
The Bordellos
and their track Moving Sideways which has an electrical buzz that channels the spirit of Roky Ericson, wonderful indeed. And for the first time in ages I've got a tune by a current pop star.
Billie Eilish
is young and has attitude something missing in spades from 99% of pop stars these days. My 16 year old thinks she's too emo, I respectively disagree, smells like teen spirit in its truest form to me and all the better for it.
What else can we throw at you?
Powell
,
Menace
,
These New Puritans
,
The Troggs
,
Robert Wyatt
and the best band name of the month comes from a very noisy bunch going by the moniker
Oozing Wound
!
Enjoy and thanks for listening
The Beatbox Saboteurs Show

May's show sees the return of a few of our favourite acts, along with a wonderful assortment of newbies and new releases. There's everything from heavy rock to delicate instrumentals, via shoegaze and glitch. We dip into the new release from Thomas Imposter Records and also mark the recent passing of
Ranking Roger
.
Merriman (our butler) serves up another magical moment and we tickle the archives ourselves with a couple of tracks from Festive 50s of yesteryear.
Rounding off the show, we have a new track from
Nil
, the band from Ireland who recorded a session for John Peel in 1996. Great to hear them again.
We hope you find the entertainment value is as high as ever!
Thomas Blatchford

Just like a weary topical gag about Br*x*t or a terrifying bout of unseasonal weather, the latest edition of the rodent disco is ready to inevitably shoehorn itself into your May with alarming schedule. And frankly it's an absolute corker, with fan-bloody-tacular new singles from (spoiler alert)
SK Simeon
,
Porridge Radio
,
Kayo
,
Dallas Woods
,
Julia Why?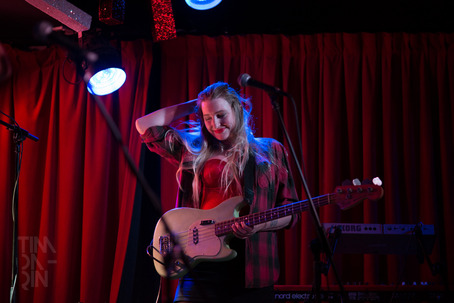 and a truckload besides, plus more than welcome reissues from the likes of
Karen Marks
,
Freddie McKay
and
Kleenex/Liliput
.
Meanwhile, Thomas is a bit contrite about Record Store Day while being irked by the new
Elastica
compilation,
The Last Poets
are back (again) while
Pikelet
takes a final bow, a band sings one of their own reviews, and another two hours floats by gracefully like an untethered silk windsock.
Much love, peace out!