Andrew Morrison

Andy's first show for a little while comprises two hours of new and fairly new music, including
We Show Up On Radar
,
These New Puritans
,
Kelly Lee Owens
,
Melys
,
Lust For Youth
,
Savages
' bassist
Esya
,
Malcolm Middleton
,
Mark Peters
,
Lingua Nada
and
Black Honey
.
Andy also picks highlights from the monthly Sonic Cathedral Records singles club 7 inches released since his last show in May, and you'll hear a phenomenal reworking of
New Order
's 1985 single 'Sub-Culture' taken from their latest live album.
Gareth Jones

My September show begins on a political theme with 4 songs about our new prime minister and America's president. Whether the songs are a tribute to these men or are poking fun at them, you'll just have to listen to find out!
Also this month I bring you 7 short sharp songs in a row, each one clocking in at under 2 minutes. The sequence begins with
SMALL CRUSH
at 1 minute 3 seconds and ends with
Lunch Lady
at a colossal 1 minute 45 seconds!!
"Secret Songs from the Sixties" brings you two tropical tracks from 1965, re-issued on the Vampi Soul label. Then the tropical vibes continue with a newly discovered rare Exotica track by
The Tikiyaki Orchestra
and a new release by
Monster Rally
.
The 2nd hour brings 4 new instrumentals including
Los Bitchos
and
Alice Hubble
. And there's new songs by Anti-Folk legand
Lach
and Japanese duo
GOOFY18
whose new single is released on a label co-run by Dandelion Radio's very own Beatbox Saboteurs!
Plus I mark the 50th anniversary of The Beatles' album "Abbey Road" with 4 cover versions. Hear an dark electro gothy version of "Come Together", a steel drum band version of "Octopus's Garden", some children singing "Here Comes The Sun" and an electronic version of "Mean Mr. Mustard" featuring the late great Frankie Howerd! Titter ye not!
Mark Cunliffe

I'm a little bit perturbed that I've just recorded my September show. I've already heard use of the 'C' word and no one needs to be mentioning Christmas yet ...
In the show there is a new one from
Luke Vibert
on a bit of an acid trip.
John Paul
turns up with another off his new 12", released this month and
Swarvy
is back with yet more heat.
Fellow Dandelion DJ Sean Hocking might be pleased to know I've joined the
The Cool Greenhouse
appreciation lobby, there is one from them off their recent 10" release.
There is a fabulous drum and bass track that leapt to prominence in Sherelle's classic Boiler Room set a few month's ago and some 60's style garage rock from the French/Scottish
Les BOF
.
Melys
comes at us with a new one and there is a sublime session mix from
Voltage Controlled Romance
, worth the admission alone that one, seriously.
Mark Whitby

Previews of the autumn new releases are beginning to pour in so this month's show introduces cracking new tunes from forthcoming albums by
Battles
,
Alasdair Roberts
and
Moon Duo
, among others. There's more from two of the summer's finest albums, from
Blanck Mass
and
Wooden Ambulance
while we also play something from Khazakstan for the first time, with a track from the excellent
Viktor Van River
release on BlocSonic.
Our featured compilation this month is a reissue of not one but two vintage reggae collections from Cherry Red, while this month's Peel Back... feature dips into the Peel sessions archives from September 1969, 79 and 99. There's also, as you'd expect, something from the moon landings album from that other Peel favourite
Daniel Hayman
and, if you're wondering why we've not mentioned anything yet about the new
Oh Sees
... don't panic because we got there eventually.
Rocker

A three hour show this month, including new tracks from
Blue Orchids
;
Dragon Welding
;
Trampoline Team
;
Mick Trouble
;
Studio Electrophonique
;
Lisa Prank
;
Garden Centre
;
One Eyed Wayne
;
Personal Best
;
Dyson, Stringer, Cloher
;
The Flatmates
;
The Umbrella Puzzles
;
Ramona
;
Helen McCookerybook
;
Arrest! Charlie Tipper

;
Lonely Tourist
;
The Total Rejection
;
CTMF
;
The Stroppies
;
Mighty Mighty
;
Mick Trouble
;
The Reverend Jonny Kinkaid & His Imaginary Nowhere Band
;
Young Guv
;
Magnapop
and
Beabadoobee
.
There's a load of new electronica, including tracks from
GHEIST
;
Burial & The Bug
;
Love Over Entropy
;
Cameo Blush
;
Lynch Kingsley
and
Lunar Plane
. There's country from
Esther Rose
. There's soul / ska from
Pama International
. There's weird shit from
Jangly Mark
;
Equinox & Reed Hays
and
Squiggles
.
This month's Educating Elizabeth record is Daptone's 100th release; while this month's Rocker's Shellac Attack is a 1924 recording of a track later made popular by The Bonzo Dog Doo-Dah Band.
As well as little known acts, here's a little known fact: Many music hall and novelty songs were given a new lease of life when the Bonzo Dog Doo-Dah Band covered them in the 60s - at that time many people were buying the new fangled gramophones which played 33 and 45 RPM discs, so the junkshops of London were full of dusty piles of discarded 78s, just waiting to be discovered by Viv Stanshall and his colleagues ... as you can see in this great documentary.
Sean Hocking

Another 4 hours from Ring of Fire this month with the best that's come to my attention over the past few weeks. Favourite out of the UK this month has to be the
Roxy Girls
and their newest, "Spanners For Hands". It literally jumps out of the speakers and is on permanent replay at chez Ring of Fire. Also getting lots of spins are the
Mad Walls
, Melbourne's
Disco Junk
&
The Tijuana Panthers
.
If you are fond of new bands doing pitch perfect pastiches of styles past you'll enjoy LA's
Hammered Satin
and the UK's
Mick Trouble
with his / their great take on the TV Personalities approach to songwriting.
Otherwise it is the usual bursts of noise, oddness and music that you are unlikely to hear from elsewhere. Whether it be
Mark Gardner
's ( Ride) electronic almost balearic project as Glok, the
Triffids
singing about why you won't see farmers in nightclubs or a band I saw in the live scene in Australia's cult 1980's film, Dogs In Space, about post punk life in Melbourne in the early 80s starring a very young Michael Hutchence.
We finish the show with a track played earlier in the year; Bridges by Sydney based
Erthlings
. I've not been able to get the song out of my head for the last year and the more I listen the more I hear the same themes and feel of early Undertones songs ... can't stop going back to it, the fragility and joy is a wonder to behold.
The Beatbox Saboteurs Show

Just a one-hour show to delight you this month, but packed with lots of great new tunes including
Mecha Elvis
(formerly of Astro-B),
Just Mustard
,
Goofy18
,
Cultdreams
and
Ogikubo Station
.
We also have a marvellous session track from show favourites,
Istanbul Hippodrome
, plus
Blake Day
,
Digital Resistance
,
Kill The Moose
from our featured compilation "Into The Dark - Volume One".
Expect the usual nonsense and loads more music too!
Thomas Blatchford

Join Thomas for a bumper edition of the rodent disco as September's show is an unprecedented three hours of new (or thereabouts) music, because why not? Because it's usually two hours, that's why! Why mess with the format? Well, because a long stretch of rainy days has meant a lot of listening time, so amongst the forty songs spun this month are recent singles by
Sampa The Great
,
Tkay Maidza
,
R. Elizabeth
,
Rebel Yell
,
June Jones
, plus many more. 
Elsewhere
Basic Dicks
give teeth to a tune you'll recognise, two different groups of high school kids make equally excellent songs,
Octo Octa
whips us into a frenzy, and
Julia Why?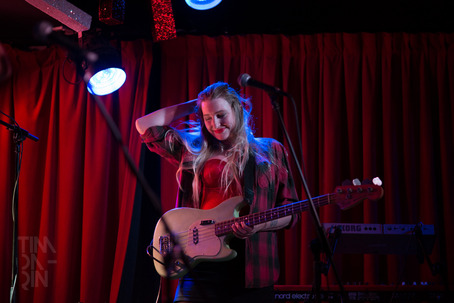 has a very specific complaint about the neighbours.
Also, Thomas features a new compilation by
Misty's Big Adventure
despite not actually knowing what's on it. Sensational!
Trev

Back again. September. A short sharp shock this month as I have found the time to record just 1 hour, but fear not, I've managed to cram the show with as much of the good stuff as possible from the likes of
Suggested Friends
,
The Understudies
,
Thigh Master
and
Current Affairs
.
I also managed to feature two songs from a compilation 'Volume 1: Hot Sick Vile and Fun' which shines a light on a vibrant 'scene' a happening in San Fransisco.
Elsewhere I have music from
Jem One
,
Lyzza
,
Itoa & Lean Low
amongst a few others.